German Hunting Cutlass
(SORRY THIS ITEM HAS BEEN SOLD).
This is a good opportunity for the advanced collector to acquire a superior example of the Rare Deluxe Hunting Cutlass circa 1938. This being the top of the range offered by the Eickhorn catalogue model number #1711.
mae west life preserver for sale
The cutlass has survived in unsharpened and untouched condition since 1945 when it was bought back by a returning serviceman .
It comes complete with original period accoutrements these being " knot ,Green frog and Army sword belt loop" these #1711 are overall shorter than the standard pieces it is understood that Herman Goring personally approved this design.
The cutlass is seventeen inches in length. The cutlass has elaborate silvered mounts featuring an oak leaf motif. At the pommel cap, the tang nut takes the form of an acorn and exhibits hand cut detail.

The top of the pommel cap below features raised out oak leaves, which run around the upper surface, overlapping each other.!

The sides of the pommel are again decorated with raised, overlapping oak leaves. The ferrule below has yet more oak leaves to the centre area, and they are bordered on both sides with raised beads .

The crossguard features oak leaf sprigs over a contrasting plain ground. The quilions take the form of of deer hooves, having deer hairs on the legs, which are hand enhanced both terminating in a hoof, the left side jutting upward and the right side jutting downward in the traditional hunting cutlass style.

Below the crossguard is a beautiful clamshell with a design only featured on the Eickhorn deluxe model. It consists of a game bird which is known as a "capercaille".
The Eagle is resting on a branch of oak leaves, and seems to be tweeting with its beak and head extended upward, with its wings downward.

Again, there is evidence of hand enhancing throughout this impressive bird.
The grip of this piece is also a real eye-catcher. The size of the genuine antler was selected as its proportions nearly fit the pommel and ferrule with minimal trimming. This antler has very deep, coffee tones in the recesses, and has superb, raised, grains which are a golden colour on their tips. In the centre of the grip, just where it turns to the left, is applied a matching correct original silvered hunting insignia. This insignia features the head of a large stag, having rays between the antlers, and in the centre a mobile swastika. Next to the deer head are the initials of the organization, "DJ". These initials stand for "Deutsches Jager". A very impressive hilt here, in top condition! The scabbard shell has a composition base which is covered in attractive, green, grained, leather. This leather is decorated with twin lines which run the length of both sides. The leather throughout still has its original grain, and remains in perfect condition. The scabbard mounts are silvered, matching the hilt exactly. These mounts have scalloped edges where they meet the leather. The upper mount is decorated with an acorn, which acts as a lug to retain a frog. The lower mount has the panel only seen on deluxe version cutlasses. This chape panel has a small dent the only detraction I have found. The panel features a scene within a wooded area with a large stag bellowing into the forest atmosphere. The ball below is also a deluxe feature, having beaded decoration to it's circumference. This fine cutlass is equipped with its original, green frog. The leather is still in fine condition. These accoutrements are highly prized an valued by collectors they frequently were lost to time as the frogs have a tendency to slip down from the lug. The cutlasses short blade measures about 10″ in length with wide fuller. This blade is triple etched, featuring standard Eickhorn hunting scenes. On these pre 1945 pieces, the hunting scenes run in the direction towards the tip.. The obverse blade features a hunter aiming his rifle at a large stag and doe, who are on the run, jumping over a fallen tree in a forest. The reverse scene features a hunter carrying a shotgun while he runs after a wild boar. His dogs are in the process of attacking the boar, and it is not too clear who is winning this battle. The spine features a series of oak leaves and acorns which are raised out. This blade still has all of the frosting in the backgrounds, and good sharp detail to the hunting scenes. The blade is full mint condition. The reverse ricasso is stamped with the 1935-1941 trademark. It features a seated squirrel holding a downward pointing sword. Above the animal is the quality word "Original", and below, the firm's name and location, "EICKHORN/SOLINGEN". The original, green, felt, buffer is in place… An excellent opportunity here to acquire one of the most beautiful cutlasses produced during the period, and for a reasonable price. Excellent Plus, Plus. This piece has now been sold
We sell items such as books on Adolf Hitler, Africa corps, Antique Revolvers Wanted, Arm Bands, The Army of occupation, badge with a swastika, Baton, Belts, Berlin, Boot knife, camouflaged, cased award, Cash Buyers of, Cloth badges, cloth eagles, Collection, Compass, Crashed aircraft, D Day Landings, Das Reich, Nazi Hunting Cutlass,Deactivated, dealers in luftwaffe, Dennison smock for sale, Dessert rats, Documentation, Documents, Eagle Stamped, Effects, Eighth Army, Fascist Daggers, Flying, Found in the attic, German air force dagger, German Navy Officers Dagger, German scout knife, German Writing, High Ranking, Hitlers bunker, How much is it worth, I am Interested in knowing the value of,
I was Given, Identify these, iron cross, Italy, Knights cross, Maps, Militaria Fairs UK, Museum, My Fathers. My Grandfathers, My Grandfather, Nazi Badges, Normandy, Old German dagger, Original German Watch Manufacturers, Paratrooper, Paratroopers, pickelhaube, prisoner of war, Reproduction, Saw back blade, spiked helmet, U boat, Uboat, Veterans Daughter, war badges, war medals, WW1 spike helmet, WW2 Army dagger, WW2 Nazi Dagger

German Daggers
Free valuation service offered without obligation or commitment.
We have Specialised in WW2 historical artefacts and acquired a loyal clientèle.
We offer complete client confidentiality and discretion.
Collections or single German Daggers acquired
German Daggers
We recognise that dealing with valuable historic militaria such as the Nazi Hunting Cutlass can be a awkward matter as ebay the on-line auction have banned such things.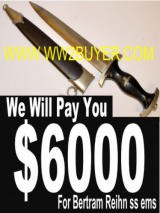 WW2Buyer offer the expertise of miltaria specialist David Mattey.
We are able to provide a better outcome for sellers .
We frequently buy for long-term investment
The purchase price is less critical for us for this reason.
We can pay you the best price on the market as we are formulating major collections .
We have specialist knowledge of your Nazi Hunting Cutlass.

Whether you are looking to sell a single item or an entire collection, we are always interested in buying your German Daggers.
We offer a simple commission free way of selling your German dagger and militaria for the correct researched market value.
Contact us via our online form and we will get back in touch as soon as possible.
Our clients are offered confidentiality and complete discretion and we strive to make the selling process as fast and easy as possible for our clients.

We work with hundreds of collectors and investors worldwide, ensuring that you get the best price available on the market today.
We deal in all kinds of German militaria items.
The purchase of You Nazi Hunting Cutlass is completely direct and you will receive the sum immediately.

If you have previously received offers from other bidders and auctions, you may include them when you fill out our online form ,we will pay you this amount in full directly. Our prices when selling German blades is competitive we study the market.
Come to us with your Nazi Hunting Cutlass and other militaria.We deliver the best comparative outcome for you.
Call 0044-7860747027 24 hour live reception
or email davidmatteybuyer@gmail.com
We pay you PROMPTLY for any original war relics you sell us.
We pay SHIPPING COSTS as negotiated for original war relics we ask you to send us (see buying terms below).
We will PICK UP larger collections and estates and help pack items at NO EXPENSE to you.
We SPECIALIZE in WWII Veteran's collections and estates. We'll help you identify and value items so you can get higher prices for them.
We send PAYMENT IN ADVANCE via PayPal for items we are interested in purchasing.*
We Have high ethical standards.
ARE YOU OUTSIDE THE UNITED KINGDOM?

Send me photos of the original WWII relics you would like to sell.
I will give you a free appraisal of values, and will make a generous offer as a dealer for relics I would like to purchase.
I may pay you IN ADVANCE thru PayPal if you have a PayPal account. I may also help with shipping costs or PayPal fees as negotiated with Military Warehouse.
WW2Buyer.com Buying Terms
Please contact me BEFORE sending any items
We do not buy firearms or ammunition. We do not buy any illegal items, medical kits or medical items, U.S. police or law enforcement items, any police or law enforcement or federal badges of any kind, gravity knives, switchblade knives, cane knives, knuckle knives, restraining devices, gasmasks, flare pistols, replica guns, tobacco products, cigarette lighters, combustible items, altered coins or altered currency, counterfeit items, altered items, items with any glow-in-the-dark parts or coating, items containing mercury, dummy or inert grenades, shell casings or inert ordnance, or any ordnance items. We do not buy, sell, trade or accept for consignment any of these items.
We generally help pay reasonable shipping costs or PayPal payment fees as negotiated with ww2buyer for original items we have asked you to send to us. Please do not send items to us by USPS Express Mail or overnight delivery unless we request you to. You must call, text or email WW2buyer.com and describe the items you wish to sell to Military WW2buyer and receive our approval before actually shipping any items to Military 18 High Street Arundel . We reserve the right to either accept or reject for purchase or acquisition any items being offered to WW2buyer.com. For further information on all our other business policies please contact us.
Anyone who sells, trades or gives to WW2buyer.com any item containing any amount of precious metal must be at least 18 years old or older.
*Our "PAYMENT IN ADVANCE" offer is only available to those sellers who have a PayPal account in good standing and to whom we have extended this offer. The payment must be returned to WW2buyer.com(less the seller's original reimbursed shipping costs in shipping the items to Military Warehouse) in a timely manner if the items are returned to the seller or the purchase is not completed.