Selling Military Antiques?
please complete our confidential Offer/free valuation
form
to obtain up to date prices →     →       →
WW2buyer.com is the acquisitions website for www.themilitariamarket.com
"The largest permanent bricks and mortar militaria center".
Free of charge Consultation and Valuation service
Are you looking to achieve better results when selling any artifacts from the Second World War?
At WW2 Buyer.com we specialize in the buying of both individual war   souvenirs  and  collections  at  all  levels.

Edged weapons and WW2 German memorabilia have been banned from the major internet auction sites such as Ebay.
You may be comforted to know that we at WW2 Buyer.com buy exclusively for a vetted circle of responsible academic collectors, Museums and historians.
WW2 Buyer.com never condones or promotes the Nazis or any other hate groups!
We believe that the preservation of objects (evidence) from mankind's dark past only has validity within an educational context.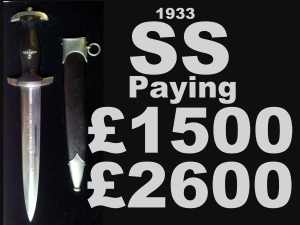 WW2Buyer.com buys directly from you, therefore you avoid letting auctioneers take a slice of the pie.
WW2 Buyer,com considers that the open display of Nazi symbols outside of a balanced historical collection to be both irresponsible and offensive.
Our Payment Policy is straightforward:
You receive immediate payment "Paypal"for your items in full.
We pay any duty on goods arriving from overseas.
Send an email today marked free of charge valuation. This should include uploaded images of any souvenirs together with known history and any questions you may have.
2) We will in turn make you an immediate offer and give answers to your questions.
If you have established an asking price based on your own research please include this.
3) If you wish to accept our offer please send a message to this effect.
4) The full payment covering both purchase and shipping will now be transferred to your "Paypal" account.
5) wrap your items in bubble wrap then pack them into a suitable box (these can be fabricated by cutting down grocery boxes) or obtained at little cost from the post office.
 

Ship To:
David Mattey
Arundel Antiques Warehouse
18 High Street
Arundel
West Sussex
BN18 9AB
England
(Enquiries Help Desk 00447860-747027)

Very Best Regards
David Mattey
Why Sell To WW2Buyer.com?
WW2buyer.com are dedicated, professional, store based retailers. Most of our business income is derived from servicing an established clientele of "high end" collectors,Museums and ethical investment groups. . Retailers such as ourselves are more likely to pay you higher prices for your Militaria, as  items don't have to pass through several sets of hands before being sold. The Militaria industry is notoriously unregulated . Some dealers now display badges of organizations that suggest they are required to subscribe to a Code of Ethics ?. Don't trust anything except the highest pre-paid offer!.
Julius Bodenstein,Dagger  Steinbach, Kr. M. "Alles fur Deutschland" Valuation $600
Gebr. Böhmenachel Dagger"Alles fur Deutschland" Valuation $700
Bönthgen u. Sabin, Fussball Dagger"Alles fur Deutschland" Valuation $700
Johan Breidor, Breidora, les 3 Croix Dagger"Alles fur Deutschland" Valuation $700
F. von Brosy, Steinberg Dagger"Alles fur Deutschland" Valuation $700
WW2 Buyer.com are always interested in buying medals, rare Coins and associated items from the following catagories:
Advertising – Aeronautica – Agricultural – Americana – Antiques – Autographs – Automobilia – Banknotes – Boys Brigade – Boys Scouts/Girl Guides – Breweriana – Bus/Coach/Tram – – Cigarette Cards – Circus/Fairground – Clubs/Associations – Coins – Corporate – Everything Else – Exhibitions – Football – Golly Badges – Historical – Historical Medals – Masonic – Mining – Music – Nautical – Nursing/Medical – Olympics – Paper & Ephemera – Police/Fire Service – Political/Trade Union – Postal – Postcards – Railwayana – Royalty – Scientific – Sporting – Stamps – – Tokens – Vintage Badges
Cultural Changes in the selling of "Militaria"
The ease with which a professional website can now be built is revolutionising the "Militaria" Industry.
Each day more "Collectors" realize their dreams by listing collections on their very own custom built websites.
What are the noticeable effects of this?
 In some cases Militaria fairs that were once a must for the collector are witnessing lower attendances :

Getting people through the gates is not the just the problem. The truth is that buyers have invariably spent
their monthly collecting budget "online" from the comfort of their own homes on their P.C.s.

Fairs may eventually serve just to display and promote web site businesses, rather like trade fairs in other industries do .

 We still have a generation or two of technophobic dealers and collectors who will insure that militaria fairs limp on..
You may be surprised to know that WW2buyer.com sell to a number of enthusiasts who do not own or have access to a computer . So whilst the revolution is underway traditional eye to eye trading continues.
What can we offer?
Collectors who reject the increases in auctioneers commission rates come to us to enjoy
the confidential disposal their collections.
Access to the internet is provided for vendors in our store so true market values can be easily established.
An average collection of one hundred items can typically be sold to us at the correct trade price in just twenty minuets.

WW2Buyer.com is embracing  changes by liaising with the major ethical websites and undertaking much of their buying Leaving them to focus on the selling.  WW2 Buyer.com believes that understanding  the heritage/ entertainment industries and reenactment culture has been key to our survival .
By investing in our own Museum displays our store now attracts thousands of visitors who are happy to pay a little more for our researched guaranteed original merchandise.  
If you are a postal customer and decide to sell to WW2buyer.com you will be selling to a big Vat Registered store situated beside one of the most visited tourist attractions:
You will receive payment to your "Paypal" account to include all shipping expenses before you are expected to ship (Safe!):
You will receive the trade prices you have reached without dealing with five hundred emails from a dozen virtual dealers
with no reputation to uphold.
We have a good general knowledge of all antique militaria and are willing to learn from you if you have specialized in obscure items.
Call today of email some group images of you collection and receive a deal that you will like.
We buy collections in the U.S.A. offering clients confidentiality,
At WW2Buyer.com,we are dedicated to maintaining our reputation of professionalism.
Are you looking to sell your German military antiques?
If so you need  look no further! We have over 30 years of experience insuring that surviving Veterans and their families obtain a fair vprice for German military souvenirs.
We buy all foreign and domestic military items, including: German Daggers, German Medals, Helmets, Belt Buckles, Flags, Uniforms and much much more!
We  make it simple  for you discover the correct market value and turn your items into cash fast!
We work with hundreds of investors and collectors worldwide so you will receive a better  return price for your items!
So, if you're looking to sell Military collectibles please drop us a line or send us an email message .We will get back to you as soon as we can.
Whether it's one item or a whole collection, we are most happy to hear from you!
By taking the initiative and contacting us at WW2buyer.com you have nothing to lose just lots to gain,
Why not contact us  today!
–                                  We  complete every transaction with accuracy and integrity!
At WW2buyer.com you can expect to receive more than 70% of the prices seen for similar advertised items on independent websites,