Militaria Museum Valuations
Obtain Militaria Offers/Valuations Together With Relevant
Background information Here .Our Service Is Free Of Charge.
Obtain  Militaria Valuations
Do not allow yourself to be bullied or pressured into selling on the spot.

Accept no less than 75%-95%  of the retail value for your items.
Look for professional dealers with commercial premises

a VAT Number? and who abide by the guidelines expected of a trade association
Militaria valuations
WW2buyer  provides you with an opportunity to obtain information and  marketing strategies for your collection on the spot.
Fill out an online form provided or send an E-Mail to davidmatteybuyer@gmail.com
Our services are provided confidentially, we are not in collusion
with other parties we are staunchly independent operating in a reliable yet  discreet way.
Being made to feel pressurised and obligated into making a decision is not what we are about.
If you wish to get  informed up to date militaria valuations free of charge we are at your service
.
As a customer, you simply have to send some images with a brief description.
This is for us to prepare a bid/offer or simply provide militaria valuations  .
 If you have by your own study arrived at a wish price please include this.
In most cases we shall pay your price, David Mattey, will respond you as soon as possible. He will offer guidance on storage and conservation of items.
David is frequently able improve on all the previous offers you may have experienced.
Militaria valuations: high offers
Militaria valuations can be obtained through two procedures.
By Completing Our Confidential Online Questionnaire
Or By Calling Our 24 hour Live desk on 0044-7860-747027.
  WW2 Buyer Buys From Dealers ,Collectors, And  the families of veterans.
We know what usual collectors, dealers Museums and investment groups are willing to pay.
We recommend you to ask for a militaria valuation.
You do not have to sell to  middlemen we have a permanent gallery exhibition  one which is visited and enjoyed by a huge volume of visitors each year .
We offer complete payment through the "Paypal" service.
This will show in your account before the shipment .
Read more about MilitariaValuations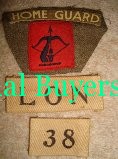 Militaria valuations always respects and maintains client confidentiality.
 Over many years of e-commerce we have developed a cherished  reputation for professionalism.
Our decades of experience are the best guarantee for all the customers.
We run the U.K.s largest permanent Militaria themed market you can experience the security of contacting  a reliable dealer.
Many web only sites look impressive but have little substance behind them.
For this reason, militaria valuations believe they provide  the best option.